A Dutch auction, often referred to as a clock auction, is a descending-price auction. For more details on this type of auction, see the Handbook section on Dutch Auctions.
Parameters are configured in the right-hand panel: Parameters for Regime #1

Screen Capture: Configuration Screen for Dutch Auction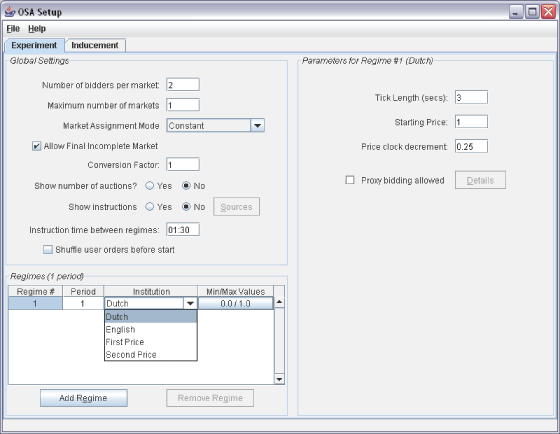 (Click here to open a window image)
Tick length: This allows the experimenter to set the speed at which the price decreases (in seconds).
Starting price: Here the experimenter price at which the auction will begin.
Price clock decrement: Here the experimenter specifies the amount by which the price will decrease with each tick in the auction.
Proxy bidding allowed: Checking this box will permit proxy bidding for each bidder. When proxy bidding is permitted, bidders may specify a price they are willing to pay in the auction so they will continue to out-bid other bidders until they have reached their proxy limit. In a dutch auction, the proxy will simply stop the clock as soon as the specified price is reached.
Details: Clicking the details button will bring up the screen below which enables the experimenter to specify exactly those bidders who are allowed to use a proxy.
Screen Capture: Proxy Bidding Configuration Screen
After setting these institution specific parameters, it is time to set up inducements by clicking on the Inducement tab. For details click here.