You can see two boxes in the matches tab.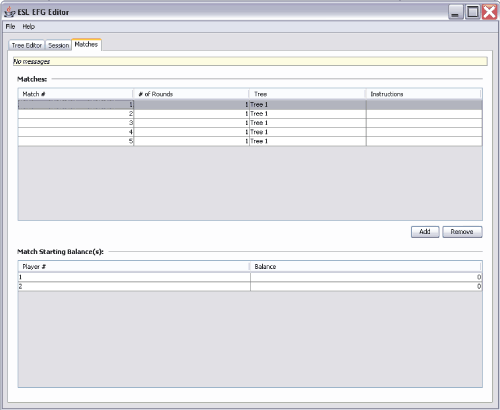 (Click here for a full-size image)
Matches: You have to add matches in order to be able to run the experiment. Here you have to select the number of matches you want in your experiment.
In each match, you can define the number of rounds that subjects will play (# of rounds), the game tree they will play (tree), and the instructions they see (instructions).
In the tree editor tab, you have an option of creating more than one game tree within your configuration. In the matches tab, you have the chance to use those trees according to what you want to test in your experiment. Here you define how these different game trees will be played, i.e. their number of rounds and how many matches will play each game tree.
You can also remove matches with the "Remove" button.
Match Starting Balance(s): In this box you can modify the starting balance for each player in each match.
NOTE: If you want the matches to have the same characteristics, you have to input the information one by one. The system does not automatically change it for you.