Server Window
The server setup window contains some essential information for preparing to run your experiment: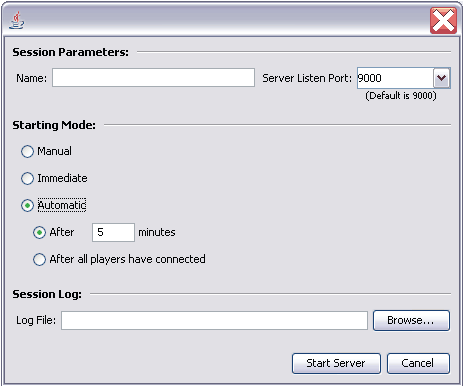 The following information are required:
1. Session Parameters
Name: you must name each experiment session you run. Avoid using the same name so that you can identify the experiment you want easily.

Server Listen Port: you don't have to change it. The default is 9000.
2. Starting Mode
In this option, you'll choose the way you want the software to start the session.
Immediate: The system will start the experiment session for you as soon as a minimum number of players to play the game sign in. For example, if you have a game for two different players to be matched in pairs, as soon as two subjects sign in, the system start the session for them. Others can sign in later and the system will start their sessions as it did for the first pair.
Automatic: This option makes the system automatically start the session according to one of the following criteria: a) after a specific number of minutes; or b) after all players have connected (in this case, it will wait for the total number of subjects specified in the game configuration).
3. Session Log
Log File: Here you have to name a log file where your results will be put in. You cannot use the same name for different experiment sessions. The system will not accept it.
| | |
| --- | --- |
| Copyright 2006 Experimental Economics Center. All rights reserved. | Send us feedback |